1905 History of Crawford County Kansas
A. J. GEORGIA.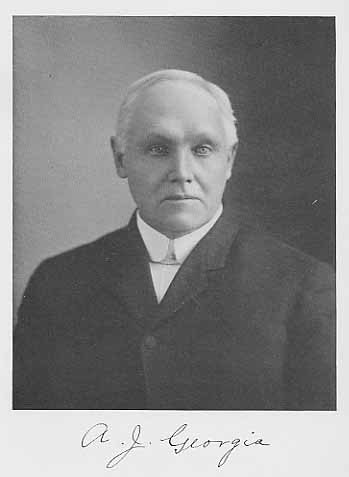 A. J. Georgia, of Pittsburg, Kansas, was born in the township of Newfield, Tompkins county, New York, August 23, 1835. His father was a farmer. In 1846 the family moved to Tioga county, and in 1850 to Bradford county, Pennsylvania, but in 1852 returned to Tioga county, locating at Waverly. In the fall of 1854 they moved to Kalamazoo, Michigan, and in 1860 to Iowa. After the close of the Civil war they left Iowa and came to Kansas, locating near the present site of the city of Pittsburg.
Mr. A. J. Georgia attended the public schools of the various communities in which he was reared. At the age of sixteen he applied to the public schools of Waverly, New York, and upon examination was assigned to classes in higher mathematics, including algebra and geometry, also natural philosophy and physiology. He afterwards, for two terms, attended the Ceresco Institute in Michigan. Upon his removal to Michigan he began teaching, his first school being in Kalamazoo county, and he afterward taught in Branch, Calhoun and Allegan counties.
He was married to Miss Edith Bennett, at Colon, Michigan, April 4, 1860, and in the fall moved to Iowa, where he continued to teach until the summer of 1862. He then enlisted in Company E, Twenty-eighth Iowa Infantry, and at the close of the war he came to Kansas and settled on a claim near the present site of Pittsburg. Here he followed the plow during the summer and taught during the winter, until the fall of 1874, when he was elected county superintendent of schools of Crawford county. During his term of office the town of Pittsburg was laid out, and upon the expiration of his term he moved to Pittsburg, where he has since resided.
In the spring of 1867 he was elected justice of the peace, which office he held for three years, and in January, 1877, he was appointed postmaster of Pittsburg, retaining that incumbency until 1884. Since that time he has been engaged in the real estate, loan and insurance business. Republican in politics, he has taken an active interest in public affairs, and has served several terms as councilman and member of the board of education of Pittsburg.
Edith Wood, of Pittsburg, is his only living child, and she was about nine months old at the time of his enlistment in the army. His wife Edith died in February, 1894, and in 1896 he married Mrs. Elizabeth Bell, his present wife.

Pages 334-337 from A Twentieth century history and biographical record of Crawford County, Kansas, by Home Authors; Illustrated. Published by Lewis Publishing Company, Chicago, IL : 1905. 656 p. ill. Transcribed by Joshua Gooding and Seth Kays, students at Baxter Springs Middle School, Baxter Springs, Kansas, in April, 2003.
---
Previous Section | Index | Next Section
Name Index | Location Index