1905 History of Crawford County Kansas
JAMES A. SMITH.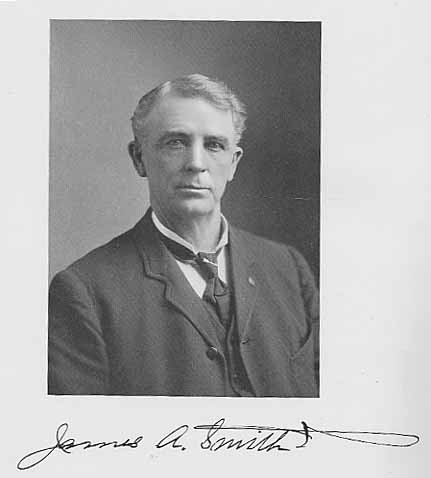 James A. Smith, lawyer, ex-county attorney and ex-probate judge, and often known as the "father of the Crawford county bar," has lived a life of extreme usefulness and honor, and nearly forty years of it have been passed in this part of the great Sunflower state. He has made his mark both as a soldier and as a civilian, has found a worthy part to play in every sphere of activity where he has been called, and to-day no citizen is more honored and respected in Crawford county than this veteran lawyer and soldier.
Mr. Smith was born in Warren county, Illinois, May 5, 1840, a son of Seth and Catherine P. (Tuttle) Smith. His father was a native of Connecticut, born January 1, 1812, but was reared in Boston, and came out to Illinois in 1838. He was a farmer by occupation, and came to Kansas in 1868 and bought land and made a farm near Fort Scott. He lived a retired life in Girard from 1888 until his death, April 7, 1901, at the great age of eighty-nine years. His wife, who was born February 5, 1814, died five days later, on April 12, 1901, so that they had traveled a common way in life for over sixty years. They were members of the Congregational church, and most esteemed and worthy people. He was elected and served as sheriff of Warren county, Illinois in 1858, the same year in which Lincoln and Douglas made their famous canvass for the United States senate. After the war he was city marshal of Monmouth, Illinois, for several terms. He was quite prominent in local politics. He gave two years of service to the Union cause, and of the seven sons which made up his family of children five were soldiers in the war, and five of the seven are still living.
Mr. J. A. Smith attended the public schools of Illinois, and was just entering the junior year at Monmouth College when the Civil war called him into the ranks. He enlisted, April 17, 1861, in Company F, Seventeenth Illinois Infantry, being sworn in for state service, and on May 25 was enrolled for the three years' service in the United States. He was in the battles at Frederickstown (October 21, 1861), at Fort Donelson, at Shiloh, Corinth, Iuka, at the siege of Vicksburg until the surrender on July 4, 1863, and was afterward detailed for duty in the commissary department until his muster out, June 4, 1864. He then took a position in the commissary department, holding it until the close of the war, first at Cairo, Illinois, then at Columbus, Kentucky, and finally at Fort Scott, Kansas, which brought him to the state of his future career and successes on January 1, 1865. While at Fort Scott he began reading law with General C. W. Blair and later with Judge W. C. Webb, and was admitted to the bar in Fort Scott in the fall of 1866. He then came to Crawford county, or what was then known as the "Neutral Lands," and was elected county attorney on the Neutral Lands. He served until after the division of the county in 1867, and was then chosen attorney of the newly created Cherokee county, in November, 1867, and discharged his duties as the first county attorney until January, 1869. He then went to Wilson county, Kansas, and entered a claim, and during the county-seat war he and his wife published a paper at Altoona.
Mr. Smith came to Cherokee, Crawford county, in 1875, and until the fall of the following year practiced law under his own name. He was then elected probate judge of Crawford county, and by successive re-elections served three terms of eight years, and one term at a later date gave him altogether ten years in that office. When not occupied with judicial duties he has been one of the foremost attorneys of the county ever since. He has been a justice of the peace for some ten years, holding that office at present, and has also served on the city council of Girard. His long residence in the county and eminent usefulness as a member of the bench and the bar entitle and secure for him an unusual degree of honor and esteem among all Crawford county citizens.
Mr. Smith married, September 1, 1869, Miss Carrie Stearns, who was born in Vermont and reared and educated in Erie county, New York, being a daughter of Henry Stearns. Mr. and Mrs. Smith had three children. Helen, who died June 6, 1899, at the age of twenty-seven, was the wife of Rev. William M. Mason, a Presbyterian minister of Syracuse, New York, and they had one child, Helen Smith Mason. Mrs. Mason was an accomplished musician, a graduate of Girard high school, spent some time under the best of instruction in Boston, and was a successful teacher and one of the best of women. Grant S. Smith, the second child, is in the freshman year of college at Parkvale, Missouri, and Katherine C. is in the sophomore year of the same school. The family all hold membership in St. John's Episcopal church at Girard. Mr. Smith is a member of the blue lodge, chapter and commandery of the Masonic order, and has been master high priest and commander of the commandery. He has also filled all the offices in his Grand Army post. He is a stanch Republican in politics.

Pages 619-621 from A Twentieth century history and biographical record of Crawford County, Kansas, by Home Authors; Illustrated. Published by Lewis Publishing Company, Chicago, IL : 1905. 656 p. ill. Transcribed by Carolyn Ward, in November, 2003.
---
Previous Section | Index | Next Section
Name Index | Location Index