| | |
| --- | --- |
| Grand Army of the Republic | Page 32 |
SOLDIERS' AND SAILORS' MONUMENT, INDIANAPOLIS, INDIANA.
The above beautiful monument was erected by the State of Indiana. State appropriations have been made from time to time for the past ten or more years. It is now completed and will stand for all time as the proudest act of that great state, "to Indiana's silent victors."
Kansas proposes to erect a similar monument if the wishes of her patriotic citizens are realized.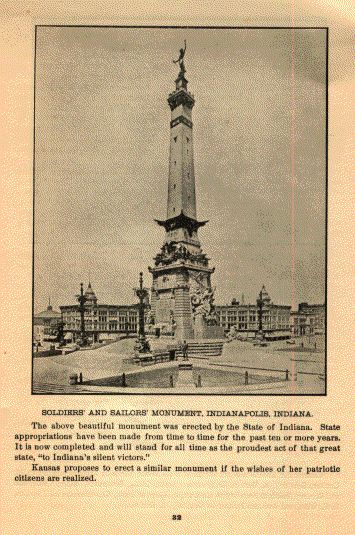 Department of Kansas, G.A.R. to the 36th National Encampment, Washington DC, Oct. 1902. Transcribed by Carolyn Ward, 1997; 1998 HTML coding by Kenneth Thomas; modified 2014 by Carolyn Ward.

Back to the GAR Index Page


Back to the KSGenWeb Digital Library Page


Back to the KSGenWeb State Index Page