| | |
| --- | --- |
| Grand Army of the Republic | Page 6 |
THE "OXFORD," KANSAS HEADQUARTERS AT WASHINGTON - THE BEST
DECORATED BUILDING IN THE CITY.
Pictured at top:
The above hotel is Kansas Headquarters during the National Encampment week. Here is where the comrades of Kansas and their friends will keep open house all week and invite every visitor in Washington to call. You will be given a "Western Welcome."
Here is where we will show you what Kansas soil will produce. Come and see our Sunflowers, our Corn and Fruit; listen to the "Modocs" sing, the Band play, and yo will want to come to Kansas.
---
Pictured at bottom:
WALTER G. BURTON, PROPRIETOR "OXFORD."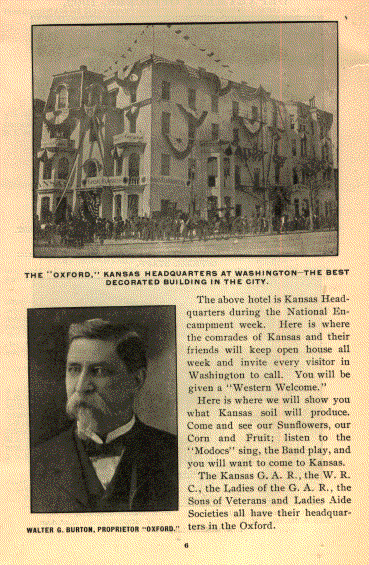 Department of Kansas, G.A.R. to the 36th National Encampment, Washington DC, Oct. 1902. Transcribed by Carolyn Ward, 1997; 1998 HTML coding by Kenneth Thomas; modified 2014 by Carolyn Ward.

Back to the GAR Index Page


Back to the KSGenWeb Digital Library Page


Back to the KSGenWeb State Index Page