| | |
| --- | --- |
| Grand Army of the Republic | Page 7 |
GROUP OF DEPARTMENT DELEGATES AND ALTERNATES TO
NATIONAL ENCAMPMENT.
Pictured:
Left:
M. P. Simpson.
Fred Lewis.
J. D. Barker.
O. B. Fuller.

Center:
Samuel Robinson.
R. A. Campbell.
J. W. Pierce.
Chas. Bush.

Right:
J. R. Baird.
P. H. Coney.
C. C. Fleck.
Thomas Dever.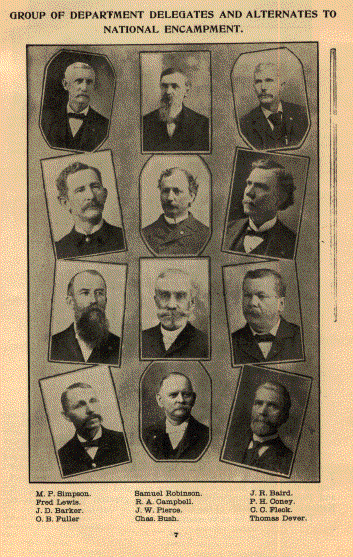 Department of Kansas, G.A.R. to the 36th National Encampment, Washington DC, Oct. 1902. Transcribed by Carolyn Ward, 1997; 1998 HTML coding by Kenneth Thomas; modified 2014 by Carolyn Ward.

Back to the GAR Index Page


Back to the KSGenWeb Digital Library Page


Back to the KSGenWeb State Index Page