| | |
| --- | --- |
| Grand Army of the Republic | Page 9 |
WOMAN'S RELIEF CORPS.
---
Auxiliary to the Grand Army of the Republic, Department of Kansas
---
DEPARTMENT OFFICERS.
President, Emma E. Forter, Marysville
Secretary, Sarah J. Hanna, Marysville.
S. V. President, Sarah C. Hall, Fort Scott.
Inspector, Jennie Walker, Goodland.
J. V. President, Lucy Edsall, Coffeyville.
Counselor, Minnie D. Morgan, Cottonwood Falls.
Treasurer, Mary M. Carson, Wellington.
I. and I. Officer, Clara N. Doughty, El Dorado
Chaplain, Sarah A. Otwell, Independence.
Patriotic Instructor, Nellie Monroe, Troy.
Pictured:
MRS. BELLE C. HARRIS, Emporia, National Senior Vice-President.
PAST DEPARTMENT PRESIDENTS.
Mrs. Emma A. Bedell, Topeka.
Julia A. Chase, Hiawatha.
Mrs. Ella G. Powell, Brooklyn, N. Y.
Margaret H. Griffith, Emporia.
Edith M. Wood, Pittsburg.
Julia Campbell, Hutchinson.
Belle C. Harris, Emporia
Minnie D. Morgan, Cottonwood Falls.
Ida Wilson Moore, Abilene.
Sarah M. Whitzel, Lawrence
Lucy Reed Jones, Norton.
Jennie Walker, Goodland.
Emma B. Aldrich, Cawker City
 
DELEGATES.
ALTERNATES.
Kittie Owens, Lawrence.
Maggie Dornblaser, Fredonia
Marion G. Stratton, Emporia.
Marie Little, Wichita.
Mattie Burris, Topeka.
Fannie Curtis, Severance.
Victoria C. Palmer, Kansas City.
Annie Apple, Iola.
Melissa Hoffman, Parsons
S. S. Hatch, Sedan.
Rachel E. Stewart, El Dorado.
Sarah E. Sprankle, Toronto.
Chloe J. Savage, Belleville.
Stella R. Miller, Marysville.
Lou WAters, Norton.
Sarah E. Staplin, Ellis.
Emma Hoagland, Hutchinson.
Mary E. Simpson, McPherson.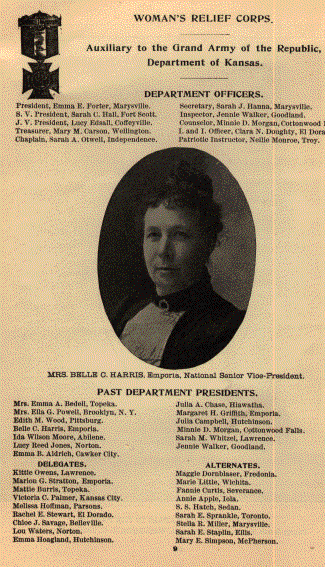 Department of Kansas, G.A.R. to the 36th National Encampment, Washington DC, Oct. 1902. Transcribed by Carolyn Ward, 1997; 1998 HTML coding by Kenneth Thomas; modified 2014 by Carolyn Ward.

Back to the GAR Index Page


Back to the KSGenWeb Digital Library Page


Back to the KSGenWeb State Index Page