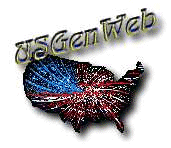 Welcome To Marshall County Kansas

My name is Alice Allen, and I am the coordinator for Marshall County, Kansas. I was born in Oregon, but my mother was a native of Marshall County, as was her mother and her mother's mother. The first of my Kansas ancestors came to Marshall County in the mid 1850's. Others followed in the 1860's and early 1870's, so my Kansas roots go back a long way. My love for genealogy, and my Marshall County roots, have prompted me to help others in this way.
This page will grow as we go, but in order for it to grow, I need your help! If you have any records pertaining to Marshall County, won't you please let me know? We need non-copyrighted records (census indexes, cemetary, marriage, wills, etc.) to put on these pages to assist others in their search. If you can help in these or other ways, please email me at dcaallen@pacifier.com.
If your interest lie in another county in Kansas and you would be interested in helping it grow by either adopting it or contributing to the database, please contact Tom & Carolyn WARD. You may also subscribe to the KsGenWeb mailing list by sending your email request to majordomo@sirius.dsenter.com. In the body of the message (not the subject line) put "subscribe ksgen-l" (that's "el," not "one"). This is where the discussion of building KsGenWeb takes place.
---
Kansas GenWeb Links
---
Marshall County Links
Queries and Lookups Links
---
Miscellaneous Marshall County Links
Includes Families, Diaries, Marriage page, Wills, Obituaries, links to personal web pages, etc.
Marshall County Families Stories of our Pioneer families can be found on this page.
Autobiography of John Baptist Neumayer and other descendants.
Diary of Anna Mary Johnson, from May 11, 1896
Marshall County Marriages , submitted by you, the researcher.
Marshall Co. Cemeteries, submitted by you, the researcher.
Currently contains selected listings for Salem Lutheran Church Cemetery, Mission Covenant Cemetery, and Rosehill Cemetery.
Marshall Co. Libraries and their materials.
Index to 1922 Atlas of Marshall County-- Richland
Index to 1922 Atlas of Marshall County-- St. Bridget
Index to 1922 Atlas of Marshall County--Vermillion
Vermillion Cemetery Plot Map
Address no longer valid, am checking for an updated address.
Vermillion Cemetery Names List
Address no longer valid, checking for an updated address.
Wells Family Cemetery
Richard C. Wells has provided a copy of this cemetery. No other record is known to exist. Surnames include WEBSTER, VOTIS, NESTER, HAMILTON, RODGES, MCCONCHIE, BENNETT, RINEHART, WARREN, FAIRCHILD, PADDEN, CAPOOT
Index to Emma Forter's History of Marshall Co.
Please note that I do not have a copy of this book. Contact the Marshall Co. Historical Society, whose email address is listed below, for more information.
Reflections from the Prairie
a booklet transcribed by Rosana Whitenight for the University of Kansas online collection.
Mina, a Ghost Town Today
A history, including pictures, of Mina, Marshall Co., Kansas
Selected Birth & Death records from the Marshall County Courthouse compiled by Geraldine Holle of the Marshall Co. Historical Society.
Class of 1920 of the Common Schools of Marshall County 19th Annual Commencement
Includes class list and commencement program. Compiled by Nancy Welshimer Fincham.
TrakWest by Dale Morrow
Tracing families from the East (Maryland, Virginia, West Virginia) to the Midwest, including Marshall County, Kansas. Click on the link to "Family Groups By State/County to see Marshall County Families
Photo and Biography of Thomas Ryan
Contributed by Jeff Scism
Waiting for new link--this one does not work
General Genealogy Links
The following links are for your convenience, and are not related just to Kansas Genealogy:
---
JOIN THE MARSHALL COUNTY MAILING LIST
Click on the following link: KSMARSHA-REQUEST@rootsweb.com
This should bring up an email form. Type the word "subscribe" (without the " "'s), in the subject line and message body, then send it on its way.
If you would rather receive your Marshall Co. mail in digest form (several messages linked together in one), click on this link instead:
KSMARSHA-D-REQUEST@rootsweb.com, and follow the same steps as above.
---
MARSHALL COUNTY HISTORICAL SOCIETY
1207 Broadway,
Marysville, Kansas 66508
Telephone 785-562-5012.
Email Address: mchs@bluevalley.net

Visit

The MCHS Webpage
Genealogical research library and museum.

Hours: Monday - Friday 1 p.m. - 4 p.m.
---
The Wheat background is copyrighted for the exclusive use of the KSGenWeb Project for display only on official KSGenWeb Pages.

These pages last updated on April 3, 2011


Home Page for Kansas
---